About ManiPedi nail bar & foot spa
At ManiPedi Nail Bar and Foot Spa we have a passion for nails, we love nails, any and all kinds of nails, long, short, natural and artificial.  We endeavour to provide the best quality nails in the country, if not the world whilst complying to the highest hygiene standards. We are not a typical beauty salon as we aim to provide an interactive environment where we encourage clients to chat and interact not only with their therapist, but also with each other. We pride ourselves on being unique, youthful and upbeat and we aim to cater to the needs and desires of the modern client.
ManiPedi established it's first test store in 2008 at the Blue Route Mall. It operated so successfully that we secured a bigger shop in the new Blue Route Mall when it was rebuilt and added additional stores at Constantia Village, Cavendish Connect and Somerset Mall. We have been consistently surprised by the success of our stores and will be adding to our footprint with a new store at Canal Walk in September 2018.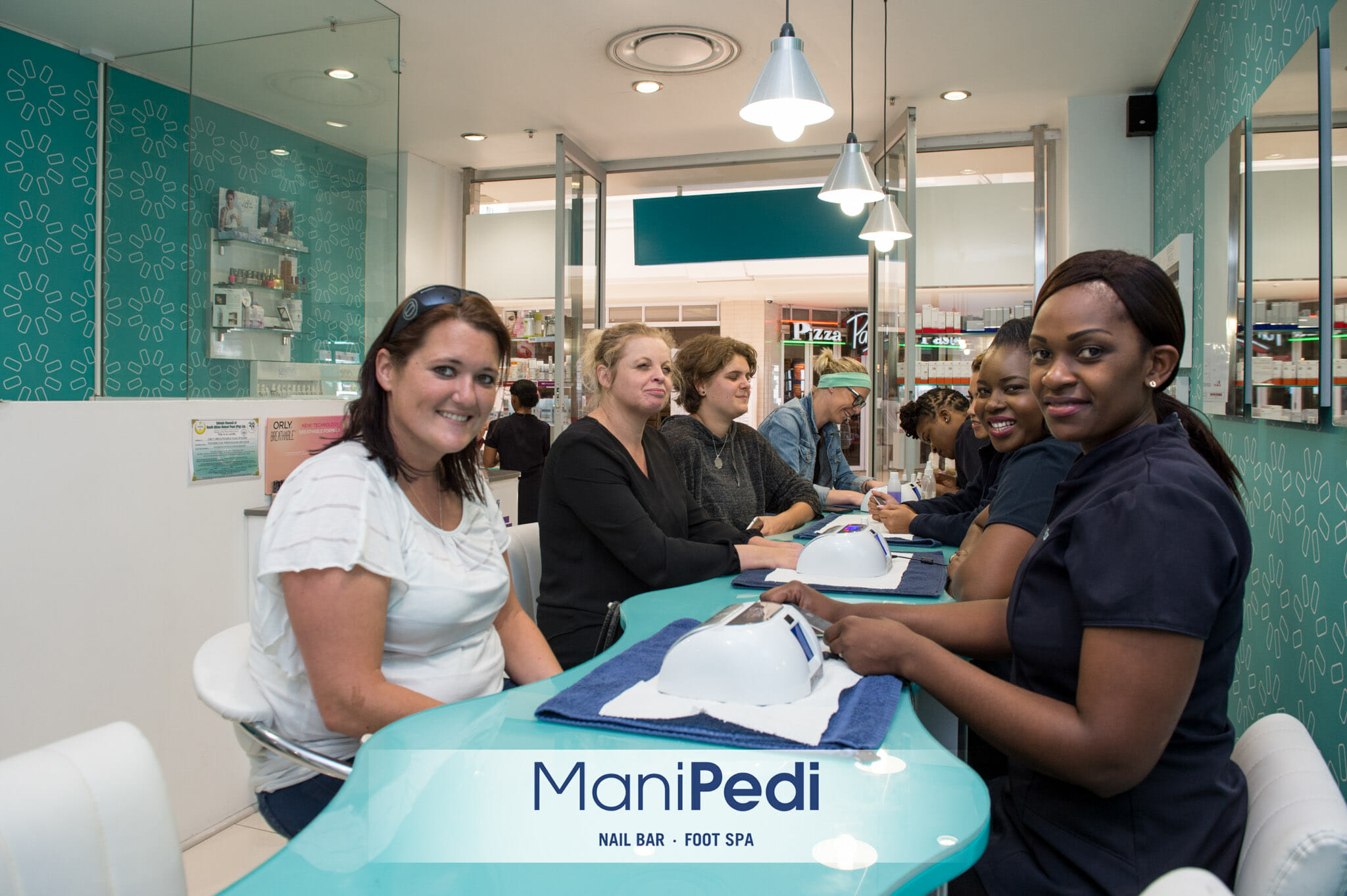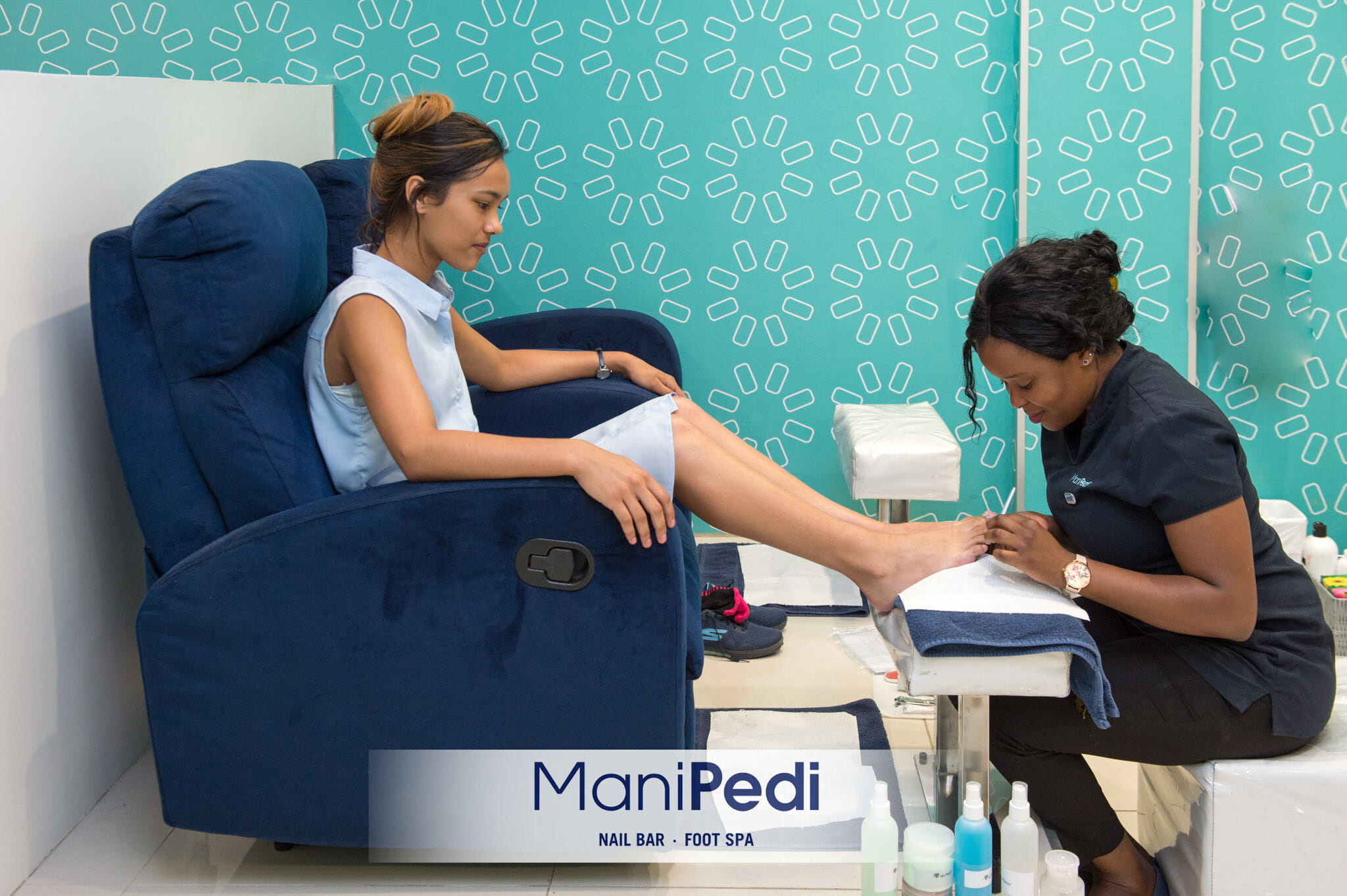 The nail and foot bar with a difference
At ManiPedi we value our hardworking staff, without whom there would be no business, and who are singularly the biggest contributor to our success. ManiPedi employs only the best qualified nail technicians and beauty therapists that have a natural affinity and passion for their craft and unparalleled commitment to customer service and excellence.
Although our passion is nails, we also provide the highest quality beauty services that include waxing, threading and lashes for the convenience of our clients. We only use reputable and well-known branded products such as Gelish, Vinylux, OPI, Morgan Taylor and The Lash Collection in and for our treatments. 
We also stock retail products from Dermafix, Environ, Rapid Lash and other top quality brands for easy purchasing. At ManiPedi we work hard to stay up to date with the latest fashion and trends in the nail and beauty industry. We are continuously expanding our services and product range to cater for the needs of our diverse client base.
ManiPedi has recently become one of the first nail bars in the country to stock the world's first Halaal certified nail polish, Orly Breathable. We have also seen an increase in demand for all natural, organically certified products that are both vegan and cruelty free.
To meet this demand, we have added Skin Creamery to our retail offering. Like ManiPedi, Skin Creamery is proudly South African.
At Manipedi we understand that our clients are time starved and many times wish to squeeze in express beauty services in between other daily activities.
We pride ourselves on our ability to accommodate walk ins and as such, our clients are not required to make an appointment, although they can if they wish to.
We encourage clients to pop in and pop out before or after their shopping. At ManiPedi, we are always happy to see our clients.
Blueroute Mall
Blue Route Mall:
Tl: 021 712 7564
E: brm@manipedi.co.za
Trading Hours: Mon-Sat 9-7 | Sundays and Public Holidays 9-5
Cavendish Square
Cavendish Connect:
T: 021 671 3944 or 021 671 2737
E: cc@manipedi.co.za
Constantia Villiage
Constantia:
C: 021 794 4895 or 021 794 3913 |
E: cv@manipedi.co.za
Trading Hours: Mon-Fri 9-6 | Sat 9-5 | Sun and Public Holidays 9-2
Somerset Mall
Somerset West:
C: 021 850 0085
E: sm@manipedi.co.za
Trading Hours: Mon-Sat 9-7 | Sun and public holidays 9-5
Canal Walk
Shop 527, Upper Level, Canal Walk, Century City
021 555 4127
cw@manipedi.co.za